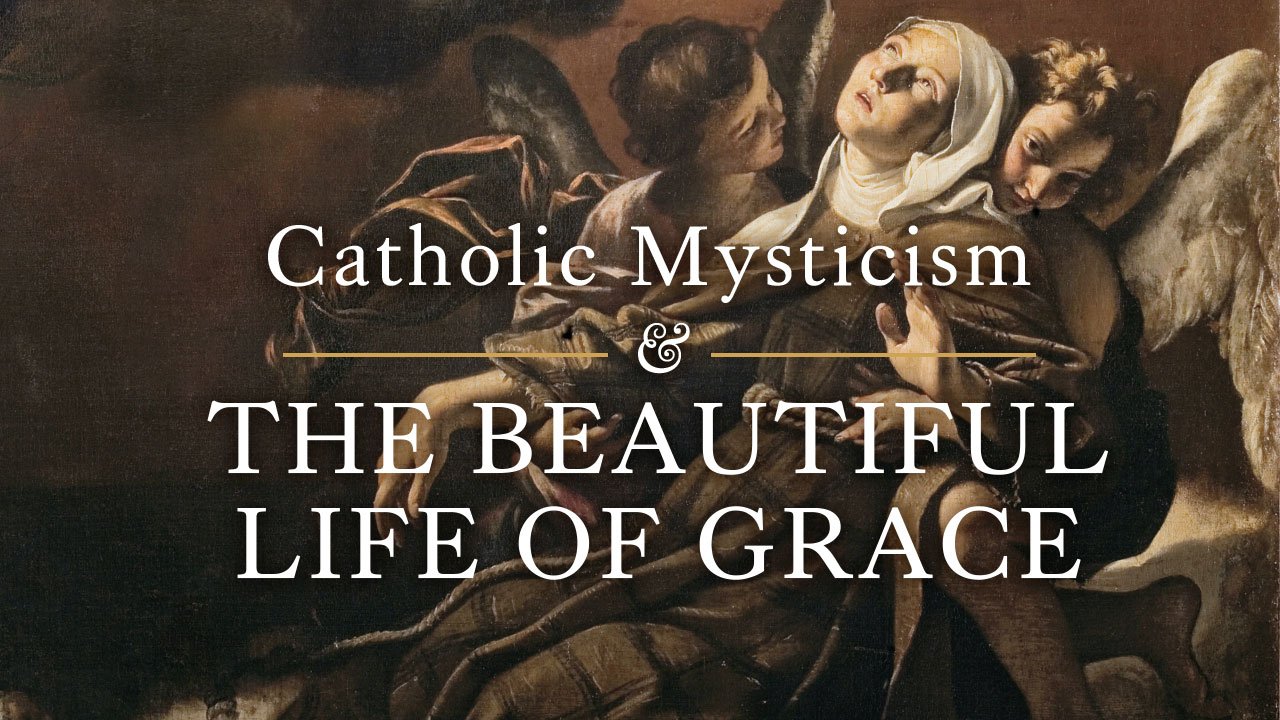 Welcome to Catholic Mysticism and the Beautiful Life of Grace
This is the first class in the Science of Sainthood program.  Created by Catholic evangelist Matthew Leonard, the Science of Sainthood is a series of step-by-step beautiful video courses that lead Catholics into a real and transformative relationship with God.
Made for regular Catholics like YOU, it's a roadmap to growth in holiness…and it will leave you in complete awe of what God desires for you.
We'll be offering four of his classes this year, you're welcome to attend one or all of them!  The first class will be Catholic Mysticism and the Gift of Grace. Through this class, you'll receive a primer on authentic Catholic Medication and practice prayer through guided audio meditation.  You can watch a preview of the course HERE!
Lesson Titles:
Lesson One – What is the Mystical Life?
Lesson Two – The Importance of Station in Life
Lesson Three – How Deification Happens
Lesson Four – The Desire for Divinity
Lesson Five – The Power of Love to Divinize
Lesson Six – The Beauty of Grace
Lesson Seven – Why Do We Struggle? Unpacking the "Absolute Supernatural"
Lesson Eight – Why Do We Struggle? Understanding the "Relative Supernatural"
Lesson Nine – Sanctifying Grace & Our Formal Participation in God
Lesson Ten – The "Accident" of Sanctifying Grace
Lesson Eleven – Understanding the Two Regions of the Human Soul
Lesson Twelve – The Fall from Grace
Lesson Thirteen – Introduction to Actual Grace & Free Will
Lesson Fourteen – Operating Grace vs Cooperating Grace
Course Information:
Each person in the group purchases the online rental individually.
Workbooks will be mailed to you directly. (And you'll receive the Digital Interactive workbook right away!)
Your group then comes together to watch each lesson together. And since everyone has access to all the lessons on their own, each person can review the material on their own time.
Buying the Workbook:
Each participant needs to sign up for this series through Matthew Leonard's website Science of Sainthood: CLICK HERE!
This gives you access to:
One Full Year of Access to every lesson at any time. Watch whenever you want, for as many times as you want on a computer, tablet or smartphone!
Beautiful Printed Workbook

Introductions & Detailed Lesson Review
Saint Quotes
Scripture Passages for Lectio Divina
Meditations
Dedicated Space for Notes & Journaling
Review & Discussion Questions
Note:
The Interactive Digital Version of the Workbook is available for immediate download. Type notes, answer questions, and journal right in the document!
If you would like a cheaper version of the workbook, you can choose to get a digital-only workbook. CLICK HERE!
How Long Are the Lessons?
Each video is about 10 minutes long (though some are a bit longer). We will plan on doing two lessons each week.
"The length is just right for each lesson because there is so much in them. Excellent and understandable teaching."
Each class is an hour and a half including the video. Plan on marking your calendars for that full time.