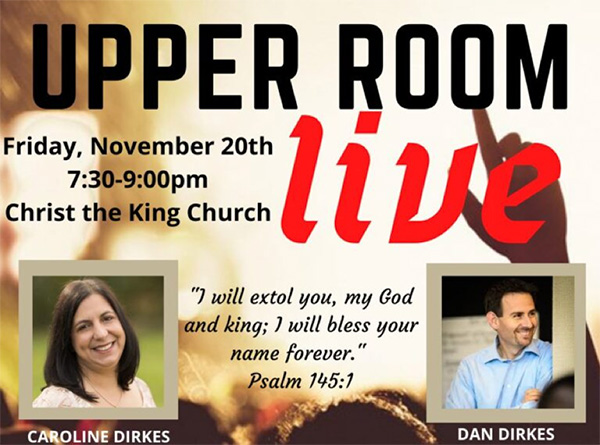 Join us this Friday, Nov. 20, for a powerful evening of worship with Caroline and Dan Dirkes at Upper Room! During these times of tribulation, it's important to remember and declare that our hope is in God alone! Come and be refreshed by the Lord Himself. You can join us in-person under the usual COVID precautions (face mask, social distancing, etc.) or on our YouTube channel by going to https://youtu.be/5LAFtoyULio.
Join people from around the country who are coming together to worship the Lord at Upper Room LIVE online! Our regular schedule is the second and fourth Fridays of the month, 7:30-9:00 pm, with streaming continuing for the foreseeable future. (There will be some exceptions to that schedule in the fall, so check back here periodically for updates.)
To access past Upper Room LIVE events and subscribe to be notified about future events, go to our YouTube channel by clicking here. And now you can watch on Facebook through Shalom World! Just go to facebook.com/shalomworld.
To stay up-to-date on the latest with Upper Room, sign up for our Facebook group! Just go to www.facebook.com/groups/thewave921