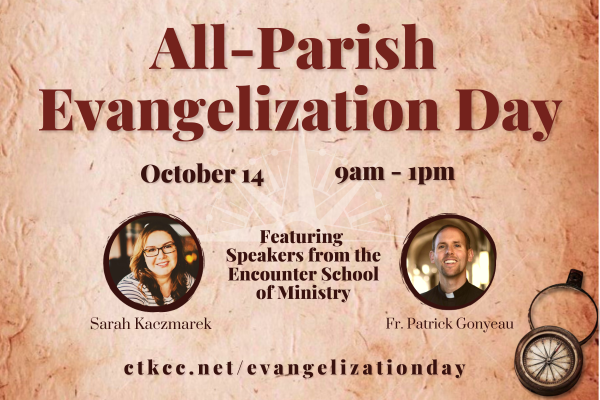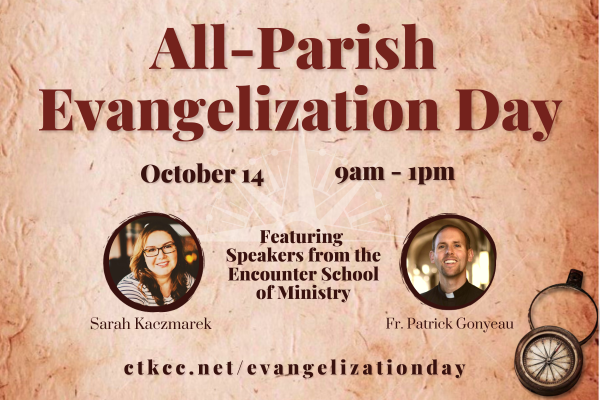 All are welcome to the All-Parish Evangelization Day! Join us on October 14 from 9am – 1pm for an opportunity to be equipped with tools for evangelization and sharing the gospel in community. Fr. Patrick Gonyeau and Sarah Kaczmarek will provide resources and training which we will then put into practice as we go out in pairs to the surrounding area. All are welcome!
Sarah Kaczmarek
Sarah serves as the Director of Pastoral Ministry at Encounter Ministries and overseer of the Encounter School of Ministry. She has served in ministry for the last 15 years and has a desire to see all of God's children walk in wholeness and holiness. She is the co-founder of the Millenial Church Conferences and a co-creator of Kindred Collective. She has loved serving as a youth minister in a parish and as the Associate Director of Alpha Catholic before joining Encounter Ministries. She holds an MA in Counseling and is currently completing a certificate in Spiritual Direction.
Fr. Patrick Gonyeau
Fr. Patrick Gonyeau is a priest from Detroit who is on fire. After four years of priesthood, he experienced a breakthrough surge of stunning healings in ministry that changed his life, convincing him that Jesus loves to give his disciples power to share the gospel and power to heal (Mark 16:18). He carries an infectious joy, inspiring faith, a passion for healing and a unique grace to equip and activate believers into the healing ministry of Jesus.